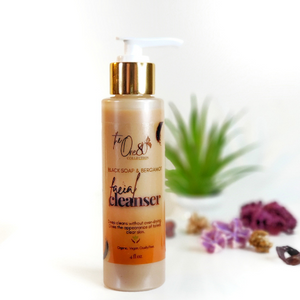 Liquid Glow Creamy Facial Cleanser
Cleansing is the first step in any basic skincare routine and the key for a squeaky-clean, refreshed complexion. But our Liquid Glow Cleanser goes beyond the basic, addressing skin concerns such as:
Oily or acne-prone skin
Blemishes, acne scars & dark spots
Enlarged & clogged pores
Matured skin with fine lines & wrinkles
This gentle yet potent formula purifies skin and restores texture for a brighter complexion with a healthy glow. Its luxuriously creamy texture draws in moisture to strengthen the natural barrier for visibly supple, super hydrated skin. 
Highlighted Ingredients
African Black Soap- All-natural African beauty secret helps to treat in acne due to its anti-bacterial, mild cleansing, and exfoliating properties. African black soap is also believed to reduce the appearance of dark spots and fine lines.
DMAE- It increases the vitality of the skin, boosting firmness and tone. DMAE also enhances the skin's elasticity and luminosity while diminishing the look of fine lines, wrinkles, and evening imperfections.
 Vitamin C- This antioxidant powerhouse improves the appearance of aged and fragile skin while correcting pigmentation and age spots.
Green & Pink Kaolin Clay – The skin-soothing clay mix calms inflamed breakouts and removes dirt and oil.
Essential Oil Blend -Therapeutic essence of Bergamot and Frankincense unclogs pores and balances sebum levels while its signature citrus notes refresh the senses.
You'll notice a difference after just a few weeks. When you get compliments on your revived complexion, don't forget to tell them that Liquid Glow is your secret!
Beautifully restored skin. 
Get your face clean & healthy with this luxury cleanser. It's safe, effective and made from pure ingredients. If you want a natural option for cleansing and removing dirt & makeup, this cleanser was designed for you. 
DIRECTIONS
Take a dime size amount and gently massage it into your skin and neck in upward circular motions. Rinse off with warm water. Follow up with our Liquid Glow Moisturizing Face Oil 
INGREDIENTS
Water, Cocamidopropyl Betaine, African Black Soap, Sodium Coco-Glucoside Tartrate, Disodium Coco-Glucoside Citrate, Phenoxyethanol, DMAE Bitartrate, Vitamin C, Green Clay, Pink Clay, Xanthan Gum, Tetrasodium Glutamate Diacetate, Bergamot Oil, Frankincense Oil.
Customer Reviews
06/09/2021
Doris P.

United States
I recommend this product
Liquid glow facial cleaner
My experience has been amazing, my skin as never felt better. A little goes a long way.my face is smooth, toned, and feeling great
11/04/2020
Joyce N.

United States
I recommend this product
Face glow
My experience using Liquid Glow was wonderful, leaving my skin feeling very soft.
10/29/2020
Tonia L.

United States
I recommend this product
Great Product
Liquid Glow Facial Cleanser is a great morning facial wash. It gives you morning glow as well as clean your face. I have notice some blemishes fading. It works well with the Face and neck moisturizer.
07/13/2020
Terra St.Clair

United States
I recommend this product
Liquid Glow
I love it so far
07/14/2020
One80Hair Collection
07/09/2020
Louise T.

United States
I recommend this product
Black soap and bergamot
Awesome! I was able to tell the difference immediately! I am very thrilled about this product. I am a real person writing this!