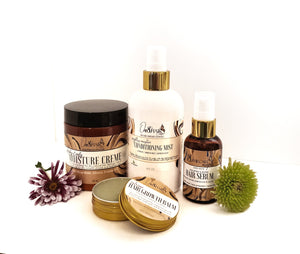 DESCRIPTION
Our #1 selling
 

Healthy Hair Starter Kit

 

contains exactly what

 

your hair needs

 for growth, moisture and to

 maintain natural shine. 

Use daily to start the healthy growing hair you've always wanted.


You'll get 4 Full Sized products formulated with natural herbs and oils guaranteed to bring life back to hair that's dry & slow to grow in as little as 2 weeks.
Spray & Go Conditioning Mist
Prep & Style Moisture Creme 
Seal & Shine Hair Serum
the Balm! Hair Growth Treatment
WHAT'S INCLUDED:
 Perfect for textured hair or hair that's dry, coarse or slow to grow.
 These products are a simple addition to your daily haircare routine. Use each as often as needed. For maximum results use daily. 
 No Silicones, Parabens, Mineral Oil, Artificial Colors, or Petroleum used. 
 PRODUCT SPECS:
Deluxe Kit: 12oz Moisture Cream, 3oz Growth Balm, 2oz Hair Oil, 8oz Conditioning Mist
SHIPPING
Get it FAST! Most orders ship within 24 hours from our facility in Fort Worth, Texas. If you have any questions about your order, please send us a message HERE or visit our FAQ  page.
Customer Reviews
03/10/2021
Faye L.

United States
02/19/2021
Alicia N.

United States
Healthy Hair Starter Kit
This is a great starter package for any in the beginning stage. After using this package I hope people continue to purchase more products.
08/31/2020
Me -.

United States
I recommend this product
Great Products!!! Must Try...
I think I've tried almost everything there is out there, that has a claim to make your hair grow. And I almost gave up, until I went to the dermatologist and they ran some test to let me know that my hair loss was not permanent, but would probably take 6 months to a year for me to get results and who wants to hear that! I almost shaved all my hair off, because I looked like a clown anyway, with all the hair that was missing on the top and the sides of my hair. And to top it all off, I even had a guy tell me that he would rather me show my natural hair, than to wear a wig. I was in tears, because I used to wear my natural hair, until this happened and I would much rather go back to my natural hair. Of course, I had to try all the products, so I decided to get the starter kit, why not get the full experience? I could see a difference in my hair growth within a week, my baby hairs are really coming out, some of the herbal smells are kind of strong, but you get used it, after continued use and I use the products everyday. I needed The One 80, because I would rather go the natural route, than with all the chemicals, so I haven't been back to the doctor, and So far so good, I'll keep you updated on my progress, for sure...TO BE CONTINUED