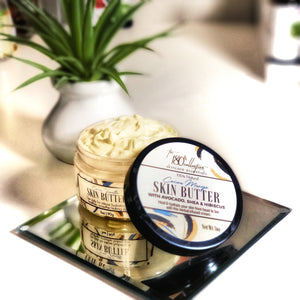 THE STORY

"My 1 year old son's eczema was soooo bad! He would scratch & scratch a spot on his arm so much, the skin would break and bleed."
I didn't want to use prescription creams because
1. I knew they contained steroids
2. I didn't know what else was in them
My son was only 1.
I was already using natural butters and creams to make haircare products so I figured why not whip something up for him... nothing to loose right!
I wanted it to smell good, be gentle and effective.
I began using it twice per day on his little raw arm and within less than a month it had cleared up!.....BINGO!
This stuff worked and smelled so good my brother started to use it on his IMPOSSIBLE skin!😋 He loves that it melts into his skin and keeps it moist ALL DAY!
Its so light, I even use it on my (combination skin) face at night after cleansing and it doesn't make my pores feel clogged and nasty. It's even lightened some of my dark spots!
We've never used store bought lotions or creams since. AND Now I can share it with you!
Click ADD TO CART and get it today!
ABOUT THE PRODUCT
This is a whipped butter that smells sweet, creamy, and delicious...like Vanilla and Cocoa Butter! It's effective for most dry skin conditions and gentle enough for children 1 and up.
It's great for:
eczema & dry skin relief
face moisturizer
Fading blemishes
Dry cracked feet
Use as a daily moisturizer
 INGREDIENTS:
Shea Butter, Mango Butter, Cocoa Butter, Hibiscus infused Avocado Oil, Rosehip Oil, Camellia Oil, Shea Olein, Magnesium Oil, Argan Oil, Vitamin E, Arrow Root Powder, Chamomile, Frankincense, Vanilla Geranium, Natural Mango Fragrance
No Silicones, Parabens, Mineral Oil, Artificial Colors, or Petroleum used. 
SPECIFICATIONS:
Product Thickness: Thick butter like consistency
Scent Profile: Shea-Vanilla-Chocolate
Weight: 4.5oz
Jar Material: PET Plastic
Customer Reviews
100
reviewers would recommend this product
Write a Review
07/17/2022
Bridgett W.

United States
I recommend this product
Bigger Jar
This is the best body butter i have tried….it smells good and my skin is soft…the only issue i have the jar is to small…all of the jars are to small…and the pump on the facial cleanser was broken when I received it….I love these products and it didnt take a week for my skin to change…
01/10/2021
Keena H.

United States
I recommend this product
I really like this product
01/06/2021
Rosalyn B.

United States
I recommend this product
Scars
I love it one of my scars on my leg is evaporating and I like the skin butter very nice very smooth the fragrance is nice and I will be buying it again thank you so much
12/03/2020
Charlesn B.

United States
I recommend this product
Skin Butter
I love the smell
12/31/2019
Rosalyn B.

United States
I recommend this product
Coco Mango Skin Butter
I love it made by skin so soft smooth and the fragrance is nice very elegant. Not loud with smells and no more cracks on my skin.