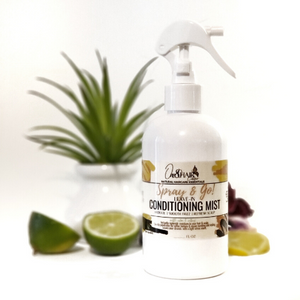 WHAT IS IT?
If you're not adding hydration to your hair care routine, you're missing out on extra moisture retention.
Adding hydration to your hair can change your whole hair care game. If you're just relying on regular water to moisturize your hair, you're missing out big time!
The SPRAY & GO Hydrating Mist hydrates and conditions your hair, the right way by leveraging the nourishing properties of Aloe Vera and Rosewater. These natural ingredients work wonders by healing dry scalp, moisture restoration, and making strands smoother.
SPRAY & GO! Hydrating Mist doesn't just stop at hydrating your hair, it also promotes hair growth, discourages itchy scalp, and leaves a clean, soothing fragrance.
After it dries, your hair is taken over by a gentle blend of blooming flowers, fresh citrus, and vanilla scent. And guess what? The fragrance stays!
SPRAY & GO! Hydrating Mist encourages goodness all around. It contains natural ingredients like aloe, rose water and essential oils. The product avoids silicones, parabens, and artificial colors so you can use it anytime, without any worries. Just spray it on dry hair, itchy scalp to keep it soft, shiny, and healthy.
Use before or during protective styles
Spray on your hair to "wake up" your product
Soothes itchy or irritated scalp
Softens the hair for easier combing
Encourages thickness & growth
Gives natural hair 

hydration & texture between wash days

Helps to minimize frizz

Rehydrate wash-&-go or refresh your hairstyle

Leaves a clean citrus scent 
The SPRAY & GO Leave-In Conditioning Mist puts moisture where it belongs, your hair.
Order yours now!
HOW TO USE IT:
Give it a good shake. Spray it on damp or dry hair, focusing on dry, frizzy areas. You can also use it to revive & refresh curls days after washing. 
If wearing protective styles, spray it on the scalp or ends of hair to prevent dryness & relieve itching.
Do not rinse out.
As it dries, you'll notice the scent of BLOOMING FLOWERS, FRESH CITRUS & VANILLA that wont fade and won't leave your hair a greasy or weighed down.
INGREDIENTS
Aloe Vera, Rose Water, Hibiscus Infused Avocado Oil, Vegetable Glycerin, Citrus Essential Oils, Grain Alcohol, Natural Fragrance
No Silicones, Parabens, Mineral Oil, Artificial Colors, Petroleum, or Additives used. 
SPECIFICATIONS:
Product Consistency: Liquid
Scent Profile: rose, citrus and vanilla.
Weight: 4 or 8oz
Bottle Material: PET Plastic
SHIPPING
Most orders are processed within 48 hours from our facility in Fort Worth, Texas. If you have any questions about your order, please send us a message HERE or visit our FAQ  page.
Customer Reviews
100
reviewers would recommend this product
Write a Review
07/07/2022
Joyce C.

United States
I recommend this product
Spray & Got Leave-In Conditioner
Excellent. Recommend to others. Thank you ♥️
01/15/2022
NaStasha S.

United States
I recommend this product
The Best
I will continously use the conditioning mist. I like it for my natural hair and when I wear protective styles. The conditioning mist is part of my daily routine, it smells good too!
01/16/2022
One80Hair Collection
Thanks you so much for being a long time customer NaStasha!
01/15/2022
Sherry F.

United States
I recommend this product
love the smell
it sprayed a lot out at a time. My hair stayed moisturized.
01/16/2022
One80Hair Collection
Yesss! Moisture Moisture Moisture. Super important for healthy hair.
05/21/2021
Jacqueline H.

United States
Love! Love! Love!
I love how this smells! So refreshing! It keeps my hair moist!
03/17/2021
Na'Stasha S.

United States
A must
Not only does it smell good but it keep my scalp moist!